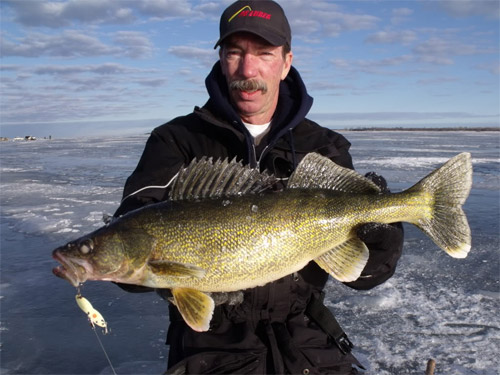 What has become PK Lures began many years ago with a young kid named Pat O' Grady. It was the discovery of nature and of love – a seed planted on a fishing trip with his uncle that would grow and evolve into a lifelong passion for this ancient art form.
PK Lures is the product of a lifetime of observation and experimentation. When Pat was growing up in rural western America and in the infancy of walleye fishing there, it was difficult to find new and effective products. But he wouldn't let that stop him from doing what he loved. Not the type to be content with what he is given, Pat began creating his own presentations and testing them on the water.
Most of Pat's early experiments took place while ice fishing in his late teens and early 20's. He would lay over the hole for hours, watching carefully how the fish would react to different presentations. This quickly turned into an obsession. A countless and tireless process of trial and error began that has continued to the present day. This process has always been fueled by successes – setups and modifications that catch more fish than their predecessors.
PK Lures was born out of this realization, as well as an experienced understanding of what the industry's leading products were lacking. Pat became fascinated by the prospect of perfecting these strange movements and absorbed himself in his work. His garage became a laboratory, and he worked tirelessly on his craft like Einstein cracking the mysterious laws of subatomic physics. He would test and re-test his lures in his bathtub, hot tub, or wherever he could, never content until he had perfected the movement he had become so familiar with out on the water.
PK Lures has come a long way and is testament to one man's passion and determination. What started as a young man's dream has grown into a viable entity in the fishing industry. PK Products offers new innovative designs of fishing lures, crankbaits, floating jig-heads and spinners.
No longer a one man operation, PK Lures has attracted some strong talent in the industry and plans on tackling all of North America with its unique line of fishing products. But some things have remained the same. Factors such as design and coloring, movements that trigger natural predatory instincts, exaggerated vibrations, and weight distribution that provides good action are all examined in detail and perfected.
PK Lures is a success story created through a labor of love.